Warning!! If you own a Canadian residential property, you might be required to file the Underused Housing Tax (UHT) before October 31th, 2023.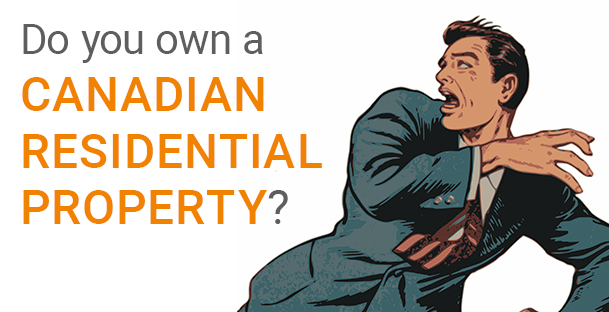 The impact of this brand new Underused Housing Tax is a lot broader than most Canadians have imagined. The legislation is quite long and complex; I'm writing this blog to specifically bring attention to affected owners who might need to file this return. If you are on the legal title of a Canadian residential property on December 31, 2022, and if you are one of the following described below, you need to file the UHT by October 31st, 2023. Minimum $5,000 penalty will be imposed on individuals and $10,000 on all other type of owners including corporations for late filing or failure to file.
Affected Owners:
Individuals who are not Canadian citizens or permanent residents of Canada: such as foreign workers, international students, and foreigners
Canadian controlled private corporations (CCPCs) and other privately held Canadian corporations: most of the corporations in Canada are under this category
Foreign corporations: incorporated outside of Canada
Individuals who own residential property as a trustee of a trust(other than as the personal representative of a deceased individual)
Individuals who own residential property as a partner of a partnership
If you have a holding company or any corporation that owns a residential property in Canada, you are required to file the UHT. In most cases, there won't be any tax owing.
Examples of residential property:
detached houses
semi-detached houses
duplexes and triplexes
cottages, cabins and chalets
townhouses
condominium units
Examples of property that are not residential property:
buildings with 4 or more units
buildings that are primarily (50% or more) used for retail or offices
mobile homes, travel trailers, motor homes and camping trailers
hotels, motels, inns and bed and breakfasts
For more information regarding UHT, please click here.
As the deadline is fast approaching, if you are not sure whether you're required to file the UHT, please take the following actions:
Notify Streamline Accounting Professional Corporation by phone or email right away, and we will help you assess your situation and determine your filing requirement.
If you are required to file, and you are a corporation, please apply for the RU number. Please click here for how to get a RU or we will help you if you are a current client with Streamline Accounting PC.
We will provide you with a checklist to help you gather documents and information that are required to file the UHT.
If you have any questions, please reach out and book an appointment with our team.